I guess I will show off the the theme which I am using for this site, WPCult! Thematic Theme Framework by Ian Stuart
Though I have the framework in place, his latest version 0.7 has been heavily modified to fit this site :). Thanks Ian.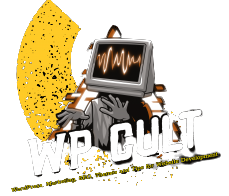 Think outside the box
Start to think outside the box. UnBox is a new WordPress theme for the willing. Using jQuery in fluidity.
Officially released today, this theme is a custom WordPress theme for those who want something different.
Built with loads a jQuery tricks and features. This theme is available for purchase. And dhould be up on ThemeForest as soon as they process the files.
For now, you can check out the working demo, and if you like the theme, use this link to [wp_eStore_buy_now:product_id:2:end].
[wp_eStore:product_id:2:end].
The first video uploaded to you tube that was approved, Ben Dunkle, designer of the admin icons you see on your WordPress install.
Links:
The release of Galleria, a gallery child theme of Hybrid
As the WordPress community grows, so does the amount of available themes. Galleria is a gallery-style child theme for WordPress built on the Hybird theme framework. Originally, this theme was created by Chirs Wallace for the Thematic theme framework and released at Smashing Magazine.
So I am excited to announce another theme release from WPCult and Frosty Web Designs. A few days back, I came across this post at Smashing Magazine.
Just recently we asked you to let us know what theme you would like us to release next. Among numerous comments we found many request for a gallery-theme that could be particularly useful for portfolios and showcases. At the very same time Christopher Wallace has been designing an advanced gallery-WordPress-theme for the design community and Smashing Magazine's audience. And today finally we are proud to release it – for free, of course.
Well, I liked this theme, and while I am a big fan of the Thematic theme, I know there are many out there who love Hybrid. Hybrid is Justin Tadlocks theme framework, which can be downloaded for free at http://themehybrid.com/themes/hybrid.
Just an FYI, this site is running hybrid as a parent theme. 🙂
So…
I contacted Chris and told him of this theme port I would be doing. After a few days of modifications, bug fixes, and styling, the theme is ready for public release.
While Galleria shares a few qualities with his sibling, the differences are notable in the style, color, and layout throughout the theme, including the theme options.
More info
For more info and documentation, refer to the readme.html file included in the download or visit the Galleria theme page.
Some features
dynamic image re-size on a single page.
WordPress 2.7 compatible
Built on the Hybrid framework
jQuery hover effects
jQuery scrolling effects.
'Save to Delicious' link
'Tweet This' link
Flexible footer widget area
Download [download#5#format=2]
Recent Posts: Fully Net Worth . com
Terry Fator net worth Terry Fator is a famous impressionist, comedian, singer, and ventriloquist from America. He has a net worth of $160 million, which he has accumulated over the years as a performer. He was born in 1965 in Dallas, Texas. He is capable of making more than 100 impressions of the ventriloquial kind […]
Nathan John Feuerstein, who is better known by his stage name as NF, is an American rapper and songwriter. NF is the ultimate underdog as he is lesser-known among people yet his works are of the highest quality and have done great. His 2017 album called Perception debuted at No. 1 on the Billboard 200 […]
Teejayx6 is an emerging American rapper who has recently become a viral sensation for his scam-based songs about identity theft and credit card fraud. The song that was a big success and conveyed this message was called "Dark Web". As of 2019, Teejayx6 net worth is estimated to be $250,000. He has never revealed his […]