I just came across an article over at WPHacks.com about a "how to" shift and bring back posts hidden way in the archive. Seems really interesting, cause I have a few blog sites myself and some of them like thefrosty.com and jeanasays.com. Theses sites have been working hard for a long while and have built up a good 20 plus paginated archive of posts.
So I am going to try and download the plugin Scheduled Post Shift Plugin by Dagon Design.
Once I have a chance to review this plugin I will surely write about it. 🙂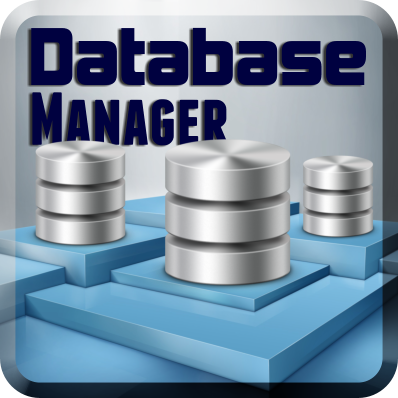 This powerful plugin is a must-have for WordPress users. With WP-DBManager you can manage your WordPress database and allows you to optimize, repair, backup, restore, and delete your database backup. You can also drop/empty tables and run selected queries to your database from within your WordPress dashboard! It also supports automatic scheduling of backing up via email and optimizing of database.
This is a plugin created by Lester "Gamerz" Chan, you can also download this plugin from the WordPress site.
Even though the plugin above is up to date and works with the current version of WordPress as of today's date  March, 8th 2020 here are a couple more plugins for database management that you might want to look at
Database Manager for Forms
This plugin was created by WPvibes.  Although it, not the same as the above plugin this one lets you save form submissions from's it provides analytics in a graphical report so you can visualize how your various forms are performing and are supported by many plugins to name a few
Contact Form 7
Beaver Builder
Elementor Pro
Caldera Forms
And More
It can be found here
Database My Admin
Database My Admin was created by wpshrike it is a database browser or manager tool for (MySQL and MariaDB) which allows an easy way to do INSERT, SELECT, UPDATE, DELETE operations on a database from Admin Dashboard.
You can provide limited database access to users or developers you want which can help speed up your work. it can be downloaded here
FEATURES :
Allows INSERT, SELECT, UPDATE, DELETE operations
Create a new database or tables or columns easily from WP admin dashboard
Give database access to specific WP users
Role-Based Access (for Editors, Authors or roles you want)
Features customization supported
WP phpMyAdmin
This is another great database manager for more information please visit there WordPress plugin page
This next script is not so much a database manager as it is more a management tool called WP Migrate DB – WordPress Migration Made Easy, as the name says this plugin is great if you need to move from one server to another for some reason and need help migrating you database to the new server then this is definitely the plugin you're looking for, built by Delicious Brains this is a great plugin that has been installed on more then 300,000 WordPress sites it has a bunch more great features I suggest you check it out.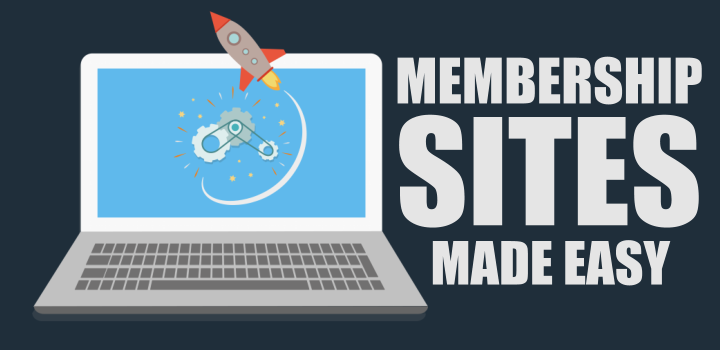 Membership plugins/scripts for WordPress paid and free we will review them here today.
Ultimate Membership Pro
Ultimate Membership Pro is the #1 selling membership plugin on Codecanyon(Envato Marketplace)
Features: Protect certain pages our content, Restrict Access, Private Content, Redirect/Replace Content, Membership Site, GDPR Compliant, Multiple Subscription Plans Simultaneously, Members Management( from one dashboard), Easy Setup, Infinite Subscription Packages, Content Access Management, Partial Content Restriction, Multi Levels, Free/Paid Memberships, Recurring Payments, Social Logins, Menu Protection, Coupons, Free/Paid Trial's, Drip Content, Email Verification, content locker, any url restriction, custom fields, special fields, conditional logic, verify code field, email marketing, Taxes (by buyers countries), Predefined templates included, custom currencies(currency exchange), smooth dashboard, support, synced WP Users, Translation Ready, Members List, Search Members by Field, Country Field, Flags, Bulk Coupons, Membership Card, Invitation Code, Cheat Mode( no sharing accounts), Download Monitor, all post restricted with a click, Lock Files, Levels Restriction, Payment Restrictions, Membership Gift, WordPress Social login, Woo Account Page, BuddyPress, Invoice on Order, List Acess Posts, Pushover Notifications, User Reports, Level Dynamic Price, Subsciption Delay, Security Login, WordPress Restrictions, Membership Badges, MyCred Points, API Gate, Integration with (Paypal, Stripe, Checkout, MailChimp, Aweber, Braintree, Zapier, Bank Transfers, Authorize.net, Payza, 2checkout, Mollie, Pagseguro, iContact, AWeber, GetResponse, Constant Contact, Mailster, Mad Mimi, ActiveCampaign)
Membership Pro main Features:
Multi-Levels
Unlimited Paid/Free Membership Levels
Content Lockers protect
Payments Gateway: PayPal, Authorize.net, Stripe, 2CheckOut, Braintree, Payza, Bank Transfer
Sell Subscriptions via WooCommerce platform
Trial Free/Paid period
Drip Content protection
Restrict Pages or any URL
Subscriptions Plan
MultiPayments option
Login Predefined Templates
Register Predefined Templates
Menu Protection
9 Email Marketing Platforms integrated
Visual Composer Integrated
Keywords Restrictions

Social Login with 7 Social Networks: Facebook, Twitter, Google, LinkedIn, Instagram, VKontakte, Tumblr
5 Predefined Social Buttons Layouts
Double Email Verification
Dashboard Stats
Unlimited Registration/Profile Fields
Restricted Fields based on Levels
Redirect, or Replace Content Page
WordPress Users Synchronize
Members List Showcases
Search Option into Members List
Pagination settings into Members List
Custom Currencies
Coupon Codes discount
Bulk Coupons builder
Customizable Email Notification Templates

Custom Inside Content Locker
Special Custom Fields: Profile Image, Upload Files, Multi-Select
Conditional Logic Register Form
Verify Code/Question field
Professional Account Page – Custom Content, Subscription actions (Renew, Cancel, Delete)
Custom Redirect Links
Multiple Predefined Shortcodes
Custom Dashboard Access
Taxes related to user Country
Country special custom field
BuddyPress Account Page Integration
WooCommerce My Account Integration
Download Monitor AddOn
WP Social Login Integration

Invoice on Orders with custom Templates
List of Access Posts available for current Users
Individual Page for each Users Account once is created
Pushover Notifications for Mobile notifications besides the regular Emails
User Reports available only for Admins for a better user tracking
Subscription Delay lets you set when the Subscription will start, also.
Level Dynamic Price – the user decides the paid price between some specific limits
Security Login to avoid brute-force attacks.
Membership Badges with custom Images.
WordPress workflow Restriction based on Levels/Subscriptions.
Filter & Search options into Members Directory
Pagination into Members Directory
Predefined Templates for Public Profile Page.
Gravatar and BuddyPress Avatar synchronization.

MYCred Integration for rewards points based on Subscriptions.
API Module for external Calls
Custom Account Page menu tabs
Predefined Templates for Public Profile Page.
Limit Comment submission based on assigned Subscription
Limit Post submission based on assigned Subscription
Integrated with Ultimate Affiliate Pro
Flat&modern Design
Ready-to-User once is installed
Multiple reminders Notifications
Provides Discount for Woo Products based on purchased Levels/Subscriptions
Drip content Notifications
Import Users&Levels via CSV file
Sell SubSites based on Levels/Subscriptions into WP MultiSite environment
User Pro
UserPro is a Social Media Membership plugin, with over 19,000 customers this is one of the top membership scripts and boast a lot of features as well as of today's date
It comes packed with amazing features like,

+ Customizable login and registration forms
+ Social connect and integration
+ User badges
+ Multiple member list displays
+ Viral marketing
+ Content restriction
+ Public/ private feed
+ Verified accounts, and much more.

It is simply an all-in-one plugin to help you create a complete community site.UserPro offers beautiful front-end profiles, login, and registration for WordPress. Besides these, UserPro comes with loads of other features like social connect and integration, viral marketing, user badges, verified accounts, content restriction, public/private activity feed, and more. It is simply an all-in-one plugin!
With UserPro, you can do just about anything you need for your WordPress Community website
+ Build your own community with searchable members directory
+ Give each user a custom and elegant profile
+ Add front-end, customized registration, and log in to your website

UserPro – All You Need To Setup A Community Website
| | | |
| --- | --- | --- |
| Follow/Unfollow FeatureFollow, unfollow feature that lets your user follow/unfollow other community members. Ready shortcodes can be used to display Followers and Following | | Social Activity StreamA stream showing recent activities by users on the site like new registration, new post, new comment, new followers, etc. Available in two types – Public Activity Stream and Private Activity Stream |
| | | |
| Member Listing LayoutsDisplay members in standard table format or collage layout. You can also show customized member's list | | Member Directory SearchEnable members directory with standard search and filter options. Use custom filters to showcase your members in Enhanced Members Directory |
| | | |
| Front End PublisherDoes't send your regular members to the backend, let them publish directly from the frontend. It supports all custom post types and post categories. | | Posts Made By UserShow posts made by user/author on the wide content area as well as on sidebar. Show posts by author dynamically. These fully responsive posts by the user can be included in the User's profile as well. |
| | | |
| Badges & AchivementsManually or automatically assign badges to user roles and display the same on the profile page. Supports custom badge upload feature. | | Content RestrictionRestrict full page/post per user roles or for Verified Accounts. Lock entire site/specific page for logged out users. |
| | | |
Essentials
| | | |
| --- | --- | --- |
| Intuitive drag and drop administration panel | Compatible with all properly coded WP themes and plugins! | Fully responsive and looks perfect on any screen size |
| 5 ready-to-use skins | Unlimited CSS Support – Easily create and apply custom CSS and styles | RTL supported |
| 350+ FontAwesome Icons & Unlimited Google Fonts | Translation Ready and available in 12 languages | Auto Update feature available |
More features:-
Front-end user profiles, login & registration for WordPress
Create unlimited custom profile fields of any type – text, drop-down, radio, checkboxes,multi-select
Custom Redirection after login / registration
Create multiple registration forms
Give each registration form an automatically assigned user role (subscriber, customer, manager, etc.)
Control which fields are required for registering, which fields users can edit, which fields are private, and more!
Send an invitation to specific users to register
Enforce strong passwords using Password strength meter
Profile and background pictures uploading from the registration form
Enable user role selection on the registration form
Allow users to delete their own profiles
Set specific fields as private
Display profile pictures in a Lightbox
Receive email notifications (admins) on profile field updates


Enable social connect and instant profile sync via Facebook, Twitter, Google+, Bkontakt, LinkedIn and Instagram.

Anyone with a social account can register/sign-in instantly! (auto-sync)
Viral Social Marketing! Auto-post to user's Twitter Timeline (Optional / Custom message)
Enabled auto-posting on Facebook (when a user publishes a new post via FrontEnd publisher or when a user follows someone).


Auto-sync WooCommerce fields
Integration with MyCred.User Points / Awards system is now available through myCRED add-on integration. Try it out!
Sync with BuddyPress profiles Option to synchronize UserPro profiles with BuddyPress profiles
Integration with SVG Avatars Generator WordPress plugin (Create awesome avatars!)
Built-in Envato Purchase Verification. Built-in integration with Envato's API
MailChimp Integration
AWeber Integration
Campaign Monitor Integration
Integrates beautifully with your theme comments
Integrates beautifully with your bbPress
Automatic Gravatars support, or users can upload custom profile pictures!
User-uploaded avatars work everywhere (BuddyPress, bbPress, theme comments, etc.)
Lightbox support for user uploaded avatars and photos!
Uses WordPress user meta to ensure compatibility with other plugins

An easy-to-use API, hooks &filters everywhere to help you integrate with any system and modify it to your needs!


Display members in a compact mode
Display an elegant profile card for any user
Display users by specific User Roles
Display users by custom fields
Restrict display of user profiles based on User Roles
Display Online Users
Display user country flag (optional)
Beautiful Frontend Profiles
Verified Accounts Feature


Users can set their password during registration (optional)
Users can register with an e-mail address
Users may log in with username or e-mail
Frontend password reset and password change. A unique front-end password reset tool! Users will never see your website's back-end. Users receive a secret key (custom e-mail) and they can reset the account password by validating their code.


Redirect the user to a custom page after login
Redirect the user to a custom page after registration
Refresh the same page after login/registration
Manually Approve New Users, Require e-mail validation, or Auto-Approve new signups!
Administration panel to approve/reject registrations and verify users

Improved plugin performance
Block / Unblock user accounts
CSV Export / Import Users


Create multiple front-end registration forms (Show different fields for each group)
Assign a specific User Role automatically for each registration form
Customizable Front-end Registration/Login
Customizable Front-end User Profiles
Unlimited custom fields plus many pre-defined fields
Uses WordPress user meta to ensure compatibility with other plugins
Automatic Video Embeds by video URL only (No embed code required)
Create Date Picker fields
Create unlimited file & photo upload fields
Create unlimited HTML fields (Video embeds, Google maps, any other HTML)
Create required fields (User must fill)
Create locked or private fields
Create hidden fields (visible to admin and profile owner only)
Block Usernames and E-mails from Login/Registration
Automatic Phone Number Validation
Automatic Form Field Length Validation
Allow user to hide fields from public view
Organize fields into collapsible tabs (optional)
Set specific custom fields to be accessible by specific user roles
User Badges and Achievements
Stop Spam registration on your site using Google reCAPTCHA


Replaces the default WordPress e-mail notifications
Customize the name and e-mail that appear on outgoing e-mails
Custom Welcome e-mail (New Registration)
Custom Reset Password e-mail notification
Custom e-mail notification to invite users to Get Verified!
Custom e-mail notifications sent to the user
Custom e-mail notifications sent to admin


Responsive Videos automatically supported!
Responsive photo uploads with Lightbox support!
PrivateContent
PrivateContent has over 10,000 satisfied customers, with complete user management and a modern framework a unique engine for restricting any part of your website, is the solution for turning your WordPress site into a complete multilevel membership platform, offers support it is GDPR compliant.
Features list
Users membership:

Unlimited user levels
Unlimited levels assignment per user
Admin manual insertion
Unlimited and flexible registration forms
Fast and intuitive list management
Sorting and simple + advanced search
Multi status: active / disabled / pending approval
Google Analytics integration tracking users action
Export and import systems
Direct WordPress users bulk import



Contents restriction systems: (based on user categories + custom through API)

PrivateContet shortcode with optional warning box containing login/register buttons
Advanced restrictions wizard + restrictions helper included in any public post type or taxonomy

Pages/posts/custom post types / categories / custom taxonomies total restriction through redirect
Pages/posts/custom post types contents replacing with warning box or excerpt or also nothing
Comments form hiding
Persistent modal lightbox on page's opening to force user's interaction



Custom (URL-based) restriction with regular expressions support
Menu items
Widgets
Complete, 1-click, website lock (optionally leaving menu visible)



Form framework:

Flexible fields structure
Form pages to split fields into sections
HTML5 client-side validation
Text blocks
Custom categories assignment (through shortcode)
Custom redirect (through shortcode)
Password strength setup
Anti-spam systems: honey-pot or invisible reCAPTCHA
Two layouts: one-column / fluid
Three preset styles + custom skin builder
Field and buttons icon + fields placeholder
Bottom border + no-label field styles
Registration and login forms alignment



Lightbox engine showing forms (or any content) clicking any site's element
Login form and logout button with custom redirects
User self-deletion box
Users reserved area with preset contents and private comments
WP users sync to allow WP-based systems usage + WP roles emulator
User frontend registration and management through any form (using WP user sync)
Native Visual Composer, Elementor and cornerstone integration
Customizable messages
100% translatable + 23 frontend languages ready to be used + WPML or Polylang ready
Dev-friendly API structure + hooks
GDPR Compliant
Modular structure (check add-ons)
Ultimate Affiliate Pro
Ultimate Affiliate Pro – is no Membership site plugin, however, we all know for a membership site to be successful it needs members and to get members the best way is to leverage your site with your own affiliate program.
Ultimate Affiliate Pro – main features
Ranks with Achievements
Classify your affiliates into separate ranks and assign a different commission level. Each Affiliate can be promoted to the next Rank once reached the Achievements
Unlimited Affiliates
There is no limit for your number of Affiliates that can promote your products and services
Custom Amount
Set a Percentage or Flat Amount for each Rank, Offer or custom commission, such an MLM rewards
Special Offers
Affiliates can earn different commissions based on which product/s are purchased. Offer can be limited by a Date Range.
Multi-level Marketing
Turn On your Affiliate platform into an MLM system that will boost your own affiliates to recruit new leads. Based on your needs there can be set a UniLevel Plan, Force Matrix or Binary Matrix system.
Lifetime Commissions
Allow your affiliates to receive a commission on all future purchases by the customer. No worries anymore about Cookies or different browsers
Performance Bonuses
Set bonus commissions when one of your Affiliates touches a specific Rank or when he signUp for the first time. Each Rank may have a different Bonus.
Banners Management
It provides different Banners that will help your Affiliates to promote your products and services on any website with an embedded code.
PayPal Payouts
Pay Affiliates earnings via PayPal directly from the Ultimate Affiliate Pro dashboard with just a few clicks. Choose to pay specific Referrals or the entire Deposit.
Stripe Payouts
Pay US Affiliates earnings via Stripe directly from the Ultimate Affiliate Pro dashboard with just a few clicks.
Recurring Referrals
Award Commissions for recurring subscriptions into Membership systems with a custom amount and a different one from one Rank to another.
Allow Own Referrals
Allow for your Affiliate to earn commissions from their own referrals
Signup Referrals
Available for Membership system awarding a flat commission when referred user sign Up
Social Share
Integrated with Social Share&Locker provides Share button options for your Affiliate to share their Affiliate Links on Social Network.
OptIn Integration
10 Email Marketing Platforms integrated where you can store your Affiliates Emails for further Newsletter campaigns.
Landing Commission
Special module to cover any desired workflow by reward the affiliates based on a Landing Page, such a successful register or complete payment stage.
Wallet
Affiliates will have the option to spend their Earnings directly into the Website during further purchases based on Generated Coupons with a specific flat discount.
Affiliate Coupons
Correlate an Affiliate with a WooCommerce, Easy Digital Download or Ultimate Membership Pro coupon code to be rewarded when a customer use that Coupon into your systems.
Affiliate Custom Slug
Provides Personal slugs besides the default username or ID so Affiliates can hide their identity or company name behind a Custom slug.
Friendly Affiliate Links
Affiliates will be able to use friendly links instead of the default one with a better-looking structure when the link is shared and much easier to read
Fair Checkout Reward
Customers decide who affiliate will be rewarded during the Checkout process.
BuddyPress Account Page
Integrate the Affiliate Account Page section directly into the BuddyPress Account page as a regular tab.
WooCommerce Account Page
Integrate the Affiliate Account Page section directly into the WooCommerce Account page as a regular tab.
Custom Currency
If your Currency is not available into the system, you can add your own currency for further use.
Top Affiliates
Provides a public list with your top affiliates ordered by Earning, Referrals or Visits with 10 predefined templates
Custom Fields Form
Multiple Custom Fields types that will provide a fully customized Register Form.
Account Page
Over 15 Menu tab with different options and fully customizable based on 3 predefined Templates and specific sections.
Affiliate Info
There are many shortcodes that may help you to display for each logged Affiliate personal Info all over the website.
Translation Ready
Ultimate Affiliate Pro is ready to work into any language being fully translation ready.
Reports
Detailed Affiliate reports or payments stats for Admin and each Affiliate into Account Page.
Notifications
Email Notifications for different actions or stages to Affiliates and system Admin
In the Future
Ultimate Affiliate Pro plugin is already in use on some of our regular client's websites and we know that the next thing they want is to have nice new features.
Ultimate Affiliate Pro is the newest and most complete Affiliate WordPress Plugin that allows you to provide a premium platform for your Affiliates with different rewards and amounts based on Ranks or special Offers.
You can turn on your Website into a REAL business and income machine where you just need to sit down and let the others work for you!
Each Affiliate can create his own marketing Campaign and brings more Affiliates via the "Multi-Level-Marketing" strategy.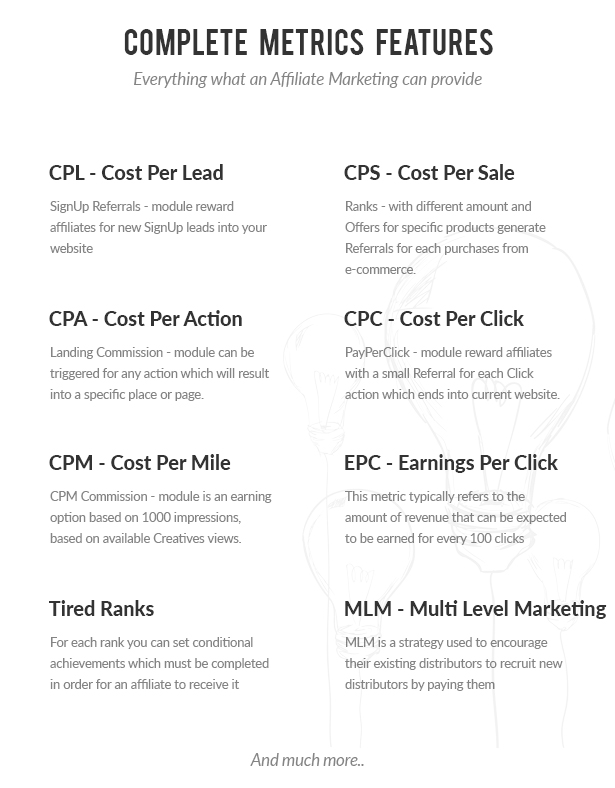 Requirements
If you want to use the Ultimate Affiliate Pro plugin, you will need:
WordPress v.4.0+
PHP v.5.6+
cURL enabled
User Profiles Made Easy
User Profiles Made Easy (UPME) is a full-featured front-end profile, log in and registration plugin for WordPress. It is user-friendly, fully responsive and works with any theme. With this plugin, you can stop sending your users to the ugly back-end profile, registration, and login pages, and instead give your users a seamless front-end experience on pages that match the rest of your website.
UPME takes your profiles to the next level, allowing you to create unlimited custom profile fields and to completely customize the registration form. You control which fields are required, which fields users can edit, which fields are private and much more. You can even display your users in a beautiful, searchable member directory, or just show one or two specific users on any page or post you want using one of the many included shortcodes. The possibilities are endless!
Includes many easy to use shortcodes with loads of options and is fully customizable.
UPME is not fully compatible with WordPress Multisite
Latest version: 2.3.09 – 2019.02.12
Note: You need PHP version 5.4 or higher to use User Profiles Made Easy.
If you like this plugin, please remember to rate it
Giving UPME a five-star rating really motivates us to continue making it even better!
UPME is Packed with Features:
General Features:
Elegant, responsive front-end profiles with unlimited custom fields
Beautiful front-end Login & Registration forms with shortcodes
Compatible with all (properly coded) themes
SEO Friendly profile permalink options (see example)
Integration with Yoast SEO for SEO features. (View More)
Support for sharing profiles on Social networks.
Enable/Disable third-party script and styles
Works automatically with any existing user metadata and user meta fields from other plugins
Show/promote a specific user or group of users anywhere with a shortcode
Fully responsive adjusts beautifully to any screen size
Easy to use shortcode generator
Fully translatable to any language using .po files
Import/Export custom fields.
Import/Export UPME settings.
Export UPME users.
Custom actions and filters for adding more features using other plugins
UPME Developer API for retrieving UPME data for other plugins and themes
New features added regularly!
Dedicated support forum!
Enable/Disable third-party script and styles

Login and Registration:
Add/Remove fields to registration form through filters. (View More)
Multiple registration forms with different fields using filters. (View More)

1-Click social login and registration with Facebook, LinkedIn, Twitter, Google+ (View More)

Force different user roles on each registration form through filters. (View More)

Enable user role selection on the registration form

Users may set a password when registering

User Profile Approvals allows admin to manually approve users before they log in

Compatible with Invitation Codes Add-on for enabling registration through invitation codes.

Login with email or username

Add/Remove fields to login form through filters. (View More)

Built-in login form templates with a wide range of designs
Role-based login redirection support.
Multiple social login icon packs for a selection
Customize the login and registration header through filters. (View More)
Custom validations on Login and Registration using filters.
Password strength meter and support for forcing password strength level
Two-Factor authentication with email allows users to improve the security of login credentials.
Sidebar Login Widget/Shortcode
Image uploading in registration forms

Profile Features:
Awesome profile header designs.

Display profile picture inside the profile in custom dimensions and design. (View More)
Customize profile header through filters.
Create multiple user profiles with different fields using filters.(View More)
Trigger profile field updates and notify the admin. (View More)
Custom validations on profile updates using filters. (View More)

Automatically works with Gravatar or users may upload custom profile pictures and avatars
User-uploaded avatars work everywhere on WordPress (comments, bbPress avatars, etc.)
Standalone profile page, link to user profiles, or current user profile automatically
Lightbox Avatar Cropping for profile image
Users may easily View/Edit their profiles
Private profiles that user can decide to make the profile public or private
Ability to delete profiles after confirmation by the user.
Newest Members Widget
Link user display names to UPME profile pages or author archives
Display profiles based on User Role
Restrict Viewing of Other User Profiles based on user role
Open user profiles in awesome popup windows
Cover image for user profiles
Multiple profile header and cover image designs
Latest members widget and shortcode
Automatic profile image resizing
A few more for you to check out
Youzer – Buddypress Community & WordPress User Profile Plugin
Ultimate Learning Pro – This one is a great niche(education) membership site plugin.
Good LMS – Learning Management System, another niche(education) membership site plugin.
WP Membership – This one is one of the original membership plugins for WordPress and one of the best.
WPGYM – WordPress Gym Management System – Another niche(Gym Management) membership site plugin
Frontend User Pro – Multi-level Membership Free/Paid
Fitness Trainer – another Niche(Fitness Training) membership plugin
I'll add more options later
Possible photo tagging plugin update
Have you tried to download any of the community tagging plugins with no prevail?
I recently posted a comment in response to a post on Justin Tadlock's WordPress site about custom taxonomies. Then was asked by a reader how I integrated my custom taxonomies with one of Matt Mullenwegs "tagging" plugin.
Anyway, I tried to install and use both plugins before with no luck. But decided to download Community Tags and try my luck again. With some hacking, I got it working. For a demo you can check out and tag (someone you know or recognize only, please) a picture over at my photography site, http://thefrosty.com.
Anyway, before I get carried away, I had a reader email me and ask how I integrated the plugin. And I thought I would ask you if you would be interedted in a re-re-release of the plugin.
At present time I do have some array errors, but everything works just fine as is.
Your comment feedback would be great! Thanks!
Recent Posts: Fully Net Worth . com
Terry Fator net worth Terry Fator is a famous impressionist, comedian, singer, and ventriloquist from America. He has a net worth of $160 million, which he has accumulated over the years as a performer. He was born in 1965 in Dallas, Texas. He is capable of making more than 100 impressions of the ventriloquial kind […]
Nathan John Feuerstein, who is better known by his stage name as NF, is an American rapper and songwriter. NF is the ultimate underdog as he is lesser-known among people yet his works are of the highest quality and have done great. His 2017 album called Perception debuted at No. 1 on the Billboard 200 […]
Teejayx6 is an emerging American rapper who has recently become a viral sensation for his scam-based songs about identity theft and credit card fraud. The song that was a big success and conveyed this message was called "Dark Web". As of 2019, Teejayx6 net worth is estimated to be $250,000. He has never revealed his […]